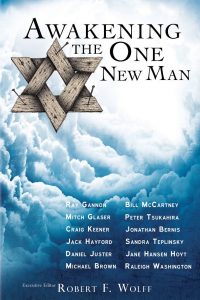 Jews and Gentiles Becoming One
Review by Sandy Wezowicz
In this book, twelve seasoned leaders shared diverse insights about the prophetic call to "One New Man spoken."  I so enjoyed viewing this subject from many different facets. Each brings a unique aspect to this unprecedented awakening. Aglow International President, Jane Hansen Hoyt's article, "The Master Plan for the One New Man," brings an understanding of the oneness that has been on God's heart since the events in Genesis and now being played out in our day as the wall separating Jew and Gentile is falling. This is fresh revelation! 
——————————————————
The body of believers has entered the season when Jew and Gentile are called together by finding our identity in the person of Yeshua, the Messiah of Israel.
Robert Wolff has assembled a forum of the world's foremost Messianic and Gentile authors and theologians whose ministries are actively supporting reconciliation within the body of believers. Each author explains in riveting detail a facet of the journey of Jews and Gentiles as they discover a shared calling to be One New Man.
When Jew and Gentile come together as One New Man, the Lord has stored up a release of blessing and power that will forever change humanity s destiny.
You can purchase this book on Amazon on Kindle or in paperback.
---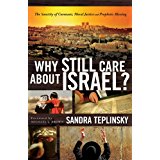 Why Still Care about Israel?:
The Sanctity of Covenant, Moral Justice and Prophetic Blessing
by Sandra Teplinsky
Review by Sandy Wezowicz
This book is well written, well documented and a wonderful book to explain why we need to care and stand with Israel. It is an excellent book for anyone who wants to understand the issues facing Israel, past and present. Christians in particular ought to read Why Still Care about Israel.  I highly recommend this book. 
———————————————-
Conversation about the Arab-Israeli conflict usually starts by asking if God is for or against the Jewish state–or Palestinians, Arabs or Muslims. In this updated and urgent book, Sandra Teplinsky, an American-Israeli Jewish believer, shows why many Christians are asking the wrong questions about Israel. With gracious honesty and solid biblical insight, she unravels the mystery and controversy of Israel–and shows how it impacts you—by taking you into the Lord's passion for all humankind
Praise for Why Still Care about Israel?
With precision and passion, Sandra Teplinsky weaves a wealth of material and presents a compelling case why we still need to care about Israel. It's a powerful treatise and treasure.
Chris Mitchell, Jerusalem bureau chief, CBN News; author, Dateline Jerusalem
An essential handbook of immeasurable worth for every thoughtful believer. Its message could not be more needed than in this present hour of global conflict, both political and spiritual.
Pastor Jack Hayford, author, Secrets of Intercessory Prayer; president, The King's University
The dividing line of the true Church will be its position on the Jews and Israel. You must be on God's side. Read this book!
Sid Roth, TV host, It's Supernatural!
You can purchase this book on Amazon. Kindle: $9.99 Paperback: $14.38
---
.
NEW YORK TIMES BESTSELLER
ALLY: My Journey Across the American-Israeli Divide
by Michael B. Oren
Review by Sandy Wezowicz
 Former Israeli Ambassador to the United States, Michael  Oren, provides a behind the scene glimpse of the stories behind the news in this fascinating memoir.  Ally opened my eyes to the often complex and diverse thought within the American Jewish community in their relationship to Israel. As Oren weaves this insightful story that played out in the global news  I also learned his  personal story, an inspiring testimony of courage and tenacity in overcoming physical challenges and a learning disability. This book held my attention from cover to cover. What a gifted communicator!
——————————————
Michael Oren served as the Israeli ambassador to the United States from 2009 to 2013. An American by birth and a historian by training, Oren arrived at his diplomatic post just as Benjamin Netanyahu, Barack Obama, and Hillary Clinton assumed office. During Oren's tenure in office, Israel and America grappled with the Palestinian peace process, the Arab Spring, and existential threats to Israel posed by international terrorism and the Iranian nuclear program. Forged in the Truman administration, America's alliance with Israel was subjected to enormous strains, and its future was questioned by commentators in both countries. On more than one occasion, the friendship's very fabric seemed close to unraveling.
Ally is the story of that enduring alliance—and of its divides—written from the perspective of a man who treasures his American identity while proudly serving the Jewish State he has come to call home. No one could have been better suited to strengthen bridges between the United States and Israel than Michael Oren—a man equally at home jumping out of a plane as an Israeli paratrooper and discussing Middle East history on TV's Sunday morning political shows. In the pages of this fast-paced book, Oren interweaves the story of his personal journey with behind-the-scenes accounts of fateful meetings between President Obama and Prime Minister Netanyahu, high-stakes summits with the Palestinian leader Mahmoud Abbas, and diplomatic crises that intensified the controversy surrounding the world's most contested strip of land.
A quintessentially American story of a young man who refused to relinquish a dream—irrespective of the obstacles—and an inherently Israeli story about assuming onerous responsibilities, Ally is at once a record, a chronicle, and a confession. And it is a story about love—about someone fortunate enough to love two countries and to represent one to the other. But, above all, this memoir is a testament to an alliance that was and will remain vital for Americans, Israelis, and the world.
Praise for Ally
 
"The smartest and juiciest diplomatic memoir that I've read in years, and I've read my share. . . . The best contribution yet to a growing literature—from Vali Nasr's Dispensable Nation to Leon Panetta's Worthy Fights—describing how foreign policy is made in the Age of Obama."—Bret Stephens, The Wall Street Journal
"Illuminating . . . [Oren's] personal odyssey exemplifies the shift from a liberal and secular Zionism to a more belligerent nationalism."—The New York Times
"Provocative . . . Oren's book offers a view into the deep rifts that have opened not only between Washington and Jerusalem, but also between Israeli and American Jews."—Newsweek
"[Oren is] one of the most uniquely qualified judges of this ever more crucial special relationship."—The Washington Times
"The diplomatic equivalent of a 'kiss-and-tell' memoir . . . informative and in parts entertaining."—Financial Times
"The talk of Washington and Jerusalem . . . an ultimate insider's story."—New York Post
You can purchase this book on Amazon. Kindle: $14.99 Hardcover: $17.67