Did you know that in Jerusalem, prayers are written and placed in cracks and crevices in the Kotel, the Western Wall. Over a million notes are placed each year in what has become a custom, not only for tourists, but also for high-profile dignitaries visiting Israel from abroad. The notes are collected twice a year and buried on the nearby Mount of Olives.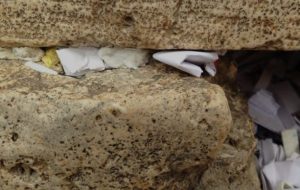 PLEASE JOIN US IN PRAYING FOR ISRAEL
Pray for peace and hope on the streets of Jerusalem.
Pray against violence and that plans are exposed before they are carried out.
Pray for a wall of protection on the northern border of Israel.
Pray for protection of the soldiers of the IDF (Israeli Defense Force)
Pray for continued protection for all believers in the land: Christian, Jewish and Arab.
Pray for wisdom, strength and courage for Prime Minister Netanyahu.
Pray for continued spiritual growth and unity in the body of Messiah in the land.
NOTE:  We invite you to add a brief prayer for Israel in the comment box below.
We invite you to join us on our regularly scheduled prayer conference call  Mondays, 10:00-11:00 PM EDT.  Find out how, by emailing IsraelAglow@aglow.org and put "Monday Night Prayer Call"  in the subject line.